Best Upgrades for 7.3 Powerstroke
Ford vehicles are recognized for being among the finest diesel trucks available. My family has been a Ford lover since my great-grandfather bought his first automobile. From 1995 to 2003, the 7.3L Powerstroke was manufactured in Ford trucks and other cars. It would be replaced due to newer emission standards, but it is still one of the most popular today.
There are a variety of modifications that you may perform to your 7.3L powerstroke engine. You can boost the fuel pump, injectors, turbo, and wideband O2 sensor, just to name a few possibilities.
Below, we've put up a list of four of the best 7.3 Powerstroke modification mods. There are other things you can do as well, but they are more expensive and will be quite beneficial. We'll go over what to look for when attempting engine modifications later in this article.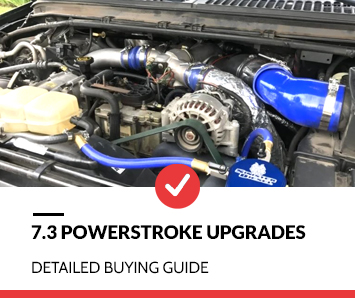 7.3L Powerstroke Performance Specs
Despite the fact that we've emphasized the 7.3L Powerstroke's simplicity as one of its key assets, it was quite sophisticated when it debuted. The 7.3L Powerstroke engine's exceptional performance numbers are largely due to direct fuel injection, which uses Hydraulic electronic unit injectors (HEUI injectors). A high-pressure oil pump and a low-pressure fuel lift pump were also installed, along with four new injectors. This engine also has a fixed geometry turbocharger that is considerably more powerful than the 7.3 IDI's turbocharger. Because to increased supply of cold, dense air, late models of the 7.3 received an air-to-air intercooler for better performance.
The Ford Superduty with a 7.3L engine has 210 horsepower and 425 lb-ft of torque, as seen here. That's 40 more horsepower and 87 lbs more torque than the IDI. The 7.3l Powerstroke was modified every year to make these trucks more powerful, especially in later years. When paired with the 6-speed manual transmission, late model 7.3s, 2000-2003 model years, came standard with 275 horsepower and 525 lb-ft of torque (with no changes).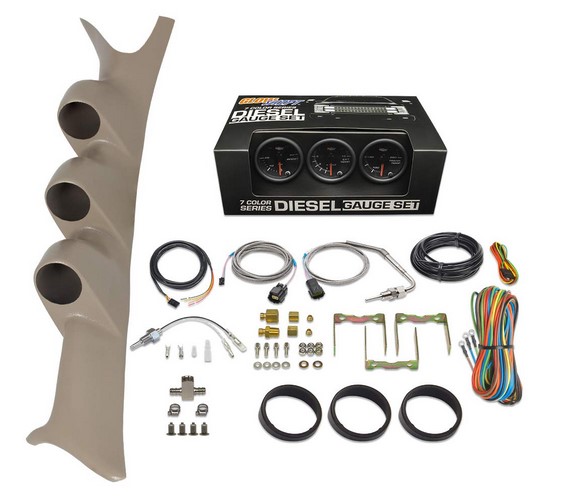 Glowshift's modifications can take the 7.3 Powerstroke engine to new heights. When it comes to upgrading your engine, this brand is your best bet. Our favorite modification set is without a doubt this one. And it's all because of its easy design, which allows the driver to see the readings on the engine clearly. You can also adjust the color of the gauges. And, regardless of the color you pick, you'll be able to see the gauge readings. Another thing we appreciate is that they're still really legible at night, no matter what color you choose. We really enjoy that the needle glows read so that the driver can have a better look at the gauge readouts. They're not distracting in any way, so you won't feel dizzy looking while driving. We also appreciate that the needle glows bright since it makes viewing the display much easier for the driver. When it comes to installation, we'd give it a thumbs up when compared to other versions we've seen. They also supplied a T-Fitting adaptor, which may be installed without the need of any drilling.
Technical Specifications:
Bright LED lighting
Customizable colors
UV-protected gauges
Built-in temperature sensor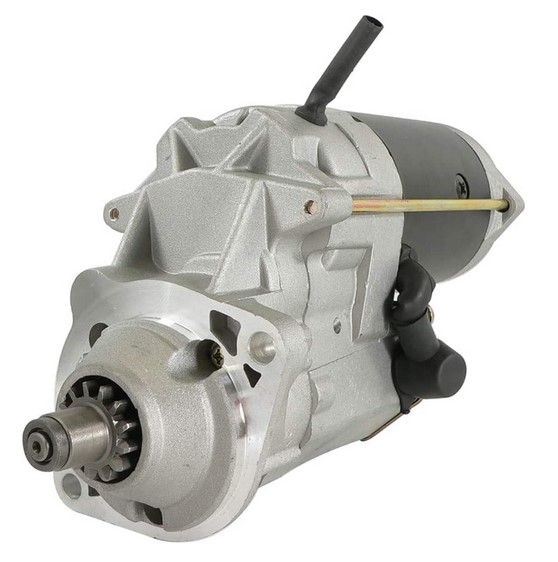 It's quite tough to get a decent starting that will get the work done from all angles. Fortunately, the SND0355 from DB Electrical performs it all. There is no disadvantage to this item, whether it's its excellent construction or outstanding performance. The most important thing to remember about a starter is that it must survive. The copper and nickel contacts will guarantee that this one continues to function for a long time. With superior performance and more comfort, the Proton EX75's new design is an enormous improvement over its predecessors. The sealed bearings & housing keep filth and moisture out at all times, making it even better. Overall performance of the component will be enhanced by the high-quality contacts, premium magnets, and field coils. You can start up quickly and easily. And what's more, you may anticipate this performance to last a lifetime. This primer is compatible with 7.3L Powerstroke engines as well as 6.9L alternatives should you need it to. Even if the engine isn't a Powerstroke, you may still expect it to run smoothly with almost every 7.3L engine out there, whether it's a Powerstroke or not. Its OSGR design and 2-bolt gear enable everything to happen.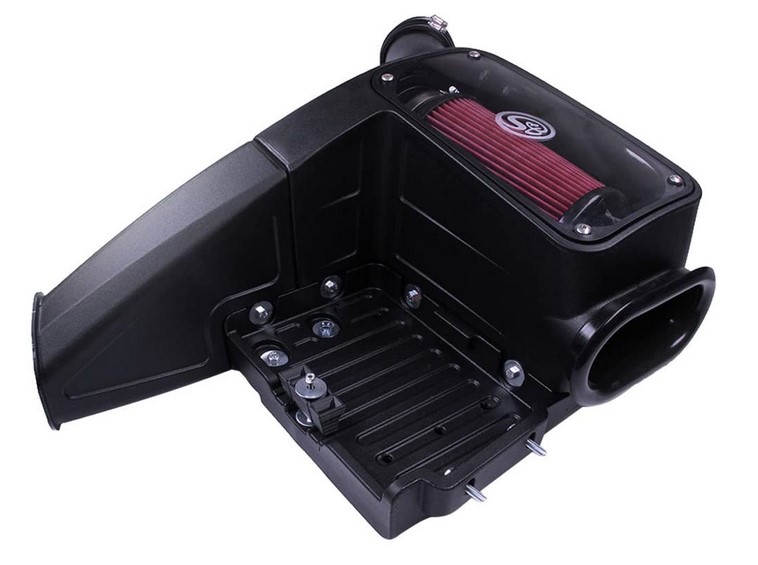 People who recently purchased it had kind things to say about the entire experience. They liked using it, both because it improved the engine's functioning and its lifespan. They also appreciated eight-ply cotton layering, which aids in fuel cleaning. The filter stands out for its improved fuel efficiency and reduced carbon footprint. It lowers your engine's energy consumption by 99.37 percent, as well as your enjoyment behind the wheel. There's also less motivation to refuel when this filter is installed, therefore we suggest it. The debris filter is most suited for individuals who reside in regions where engine block buildup is common. It has a multi-layer purification system built in, which aids in the prevention of fuel loss. You can get greater mileage for the same amount of money by reducing leaking and waste gasoline. Overall, this is a good upgrade for 7.3 Powerstroke engines since they produce a lot of power. They require something robust enough to handle all of the tasks that they accomplish. This item is ideal if you want to improve your fuel efficiency while retaining an enjoyable driver experience.
Technical Specifications:
Efficiency rate is 99.37% with this filter
Rate of airflow is 53.66% greater than usual
Application of the exact amount of oil on the filter
Installation takes only 30 to 60 minutes with the right tools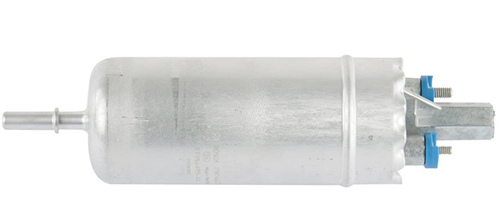 This gas pump has received lots of positive comments from previous customers. They like it for its noiseless operation, due to the smoothly operating noise suppression coil. This made driving more comfortable, as there were less noises and tremors to distract them. With its Bosch impeller rings and high-quality carbon brushes, it stands out. They protect the fuel pump from wear and damage because the carbon components do not break easily. We adore the impeller rings since they regulate oil flow to make the engine safer. If you are one of those people who must travel long distances, this is the option for you. The engine's mileage may be increased thanks to the vapor lock reduction. It's also beneficial for individuals with old cars that require better fuel flow in the engine. To summarize, this fuel pump is a surefire method of boosting the engine's oil supply. It has properly-sized inlets and outlets for the fuel, ensuring that fuel usage is low. As a result, get one to improve fuel control with this fuel pump.
Technical Specifications:
Bosch impeller ring regulates the flow of fuel
Improved turbine pump design minimizes fuel pulsation
Polymer-encased armature for minimizing vibration in 7.3 Powerstroke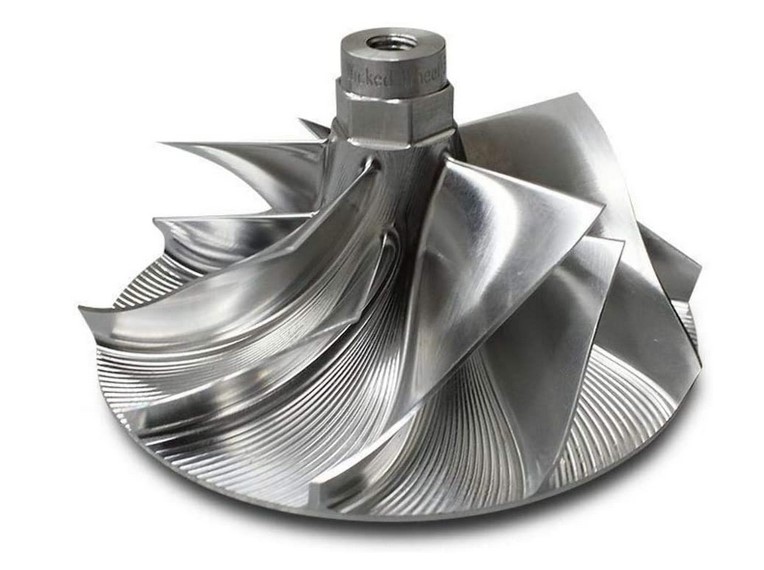 The best thing about this mod for the 7.3 Powerstroke is that it adds style to your truck without sacrificing power. This modification changes the turbo of the engine. It's a big hit with consumers, and it has excellent ratings. The wicked wheel will improve the performance of your engine. It will also enhance the driving characteristics of your car. The rear differential upgrade is a very basic yet highly successful modification. It's simple to install, and it looks great on the car. The evil wheel will give your turbo a boost. When you add other mods to this mod, it becomes more powerful. However, it can function alone if necessary. The chainsaw is also balanced at the factory, which will save you time and effort. It's a WW38. This mod would be beneficial to anybody wanting to boost their turbo quickly. This will get the job done admirably.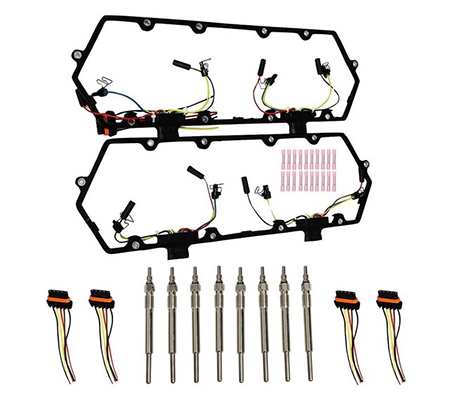 Is there smoke coming from around the engine? It's time to replace the valve cover gasket, which is excellent. And Yjracing was our choice for this one. Now, this kit includes a lot more than a valve cover gasket. This kit also includes an injection glow plug wiring harness that is long-lasting. Furthermore, these injector plugs are water-resistant. These injectors are manufactured in a wet environment and are exposed to water on a regular basis. The valve cover gasket is also in need of replacement. This is the next best thing to buying an OEM part; however, you won't spend as much as if you bought a kit. All of these parts are created to match the OEM ones. This also implies that they will fit in your car just fine, since they are the same as the stock ones.
Technical Specifications:
Waterproof plugs
Oil-leak prevention
Temperature-resistant wiring
Heat-resistant valve cover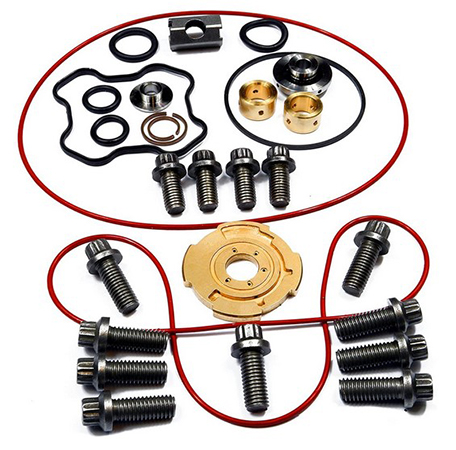 Do you want more power from your turbo but don't want to spend thousands of dollars on a complete upgrade kit? We've got you covered. The Xotic Exhaust turbo upgrade kit will significantly enhance your driving experience. This brand has made it as simple as possible to install a turbo kit. While many other turbo kits are difficult to put together, ours is quite simple. You can use it with confidence since it is OEM-compatible. It should not take long to set up for the first time because to its identical design. If you're looking to replace your turbo, we've got you covered. We feature a huge selection of aftermarket parts and accessories from the top manufacturers in this field. The manufacturer behind these great components is HKS—the same company that produces all of my favorite Toyota performance upgrades! As an added bonus, this brand has included all of the seals you'll need to restore your old turbo. If your current seal needs to be replaced and you need the seals, this package may be a good investment. Furthermore, customers have opined that the quality of aftermarket lights is far superior.
Technical Specifications:
Leak-prevention seals
HP improvement
Heavy-duty bearing
Reinforced bolts
During the production life of the 7.3L Powerstroke engine, no Ford truck had an injector pump. In a way, each of these injectors is its own injector pump. It aids in the use of oil and gasoline, which should never be combined unless there is a significant problem. This mod may aid in the circulation of oil and gasoline throughout your car. As a result, it must be considered a top priority for any diesel engine. This one would be particularly beneficial to your vehicle because of all the reasons. They are supported by a team of experienced experts. As a result, if you run into difficulties with anything, you will be able to obtain assistance promptly. This product is also protected by a 13-month unlimited mileage warranty. You won't have to worry about going over miles if you drive long distances at once, since this item is covered by a 13-month unconditional guarantee. Alliant Power Products manufactures the injectors in the United States, which is a plus. Alliant Power Products is a reputable brand that can assist you with engine modifications. We would choose them if you want to replace your HEUI injector. Without doubt, these are among the finest 7.3 Powerstroke engine modification kits on the market.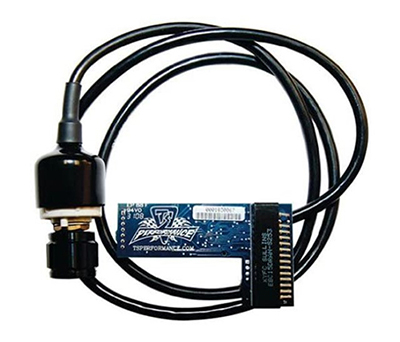 When you take your truck to be boosted, the procedure is fairly simple. However, you must first adjust the fuel and burn to make full use of the extra air. This is both simple and inexpensive to do with a TS Performance chip in your 7.3L motor. Simply plug in the chip into your vehicles PCM, then connect the wire for the tune selector to an easy-to-reach location near the steering wheel. There are actually eight different tunes available throught he 6-position selector switch, which also lets you swap between pre-loaded tunes. Its lightweight frame has helped it gain a lot of traction among previous customers. The position chip's lightweight and compact design were popular with users. It's also easy to set up and doesn't require any additional equipment. Because they provide more power when connected, these position clips make it to the top of our list of best upgrades. It's simple to store when you're not using it because the connection is simple to attach and remove. The positioning may be quickly configured depending on the usage. The bottom line is that it has a basic design and is quite useful. The position clip includes six configuration settings, making it perfect for individuals who have to drive frequently. The only negative aspect is that it isn't particularly good for heavy-duty usage, but this isn't a major problem.
Technical Specifications:
Detailed Instructions Included
All HP Settings are RWHP
Easy Installation
Hardware and Programming are TS Performances' Design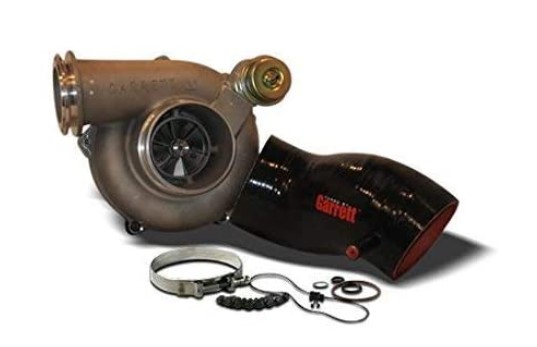 For your 7.3L, the best turbo upgrade is to choose this Garrett ball-bearing beast. You can swap out your worn original turbo with one that spools faster and produces significantly more boost throughout the whole rev range, allowing you to make more power and torque.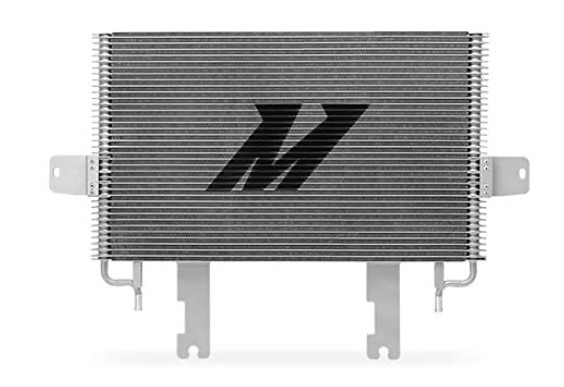 The Mishimoto 7.3L Transmission Cooler is designed to keep your transmission cool, even when you're hauling big items or driving for hours on end. Stock 7.3L Powerstrock transmission coolers can fall short of delivering adequate cooling, and with more weight in the truck bed, transmission temperatures tend to rise. Avoid those high temperatures with the newest addition to Mishimoto's 7.3L Powerstroke performance parts, the all-new 7.3L transmission cooler. High transmission fluid temperatures will be a thing of the past with the Mishimoto 7.3L Transmission Cooler. The stacked plate cooler from 37 rows by Mishimoto provides a larger surface area than both of the stock coolers (by 265%). Fluid capacity is increased by 1 litre, and core volume is up 265%. This transmission cooler is constructed of two aluminum plates, one stamped with the Mishimoto logo and the other inscribed with "Mishimoto 7.3L Powerstroke." This cooler comes with a 10+ DegreeF reduction in transmission fluid temperature, according to laboratory testing. Installation is straightforward; no modifications are required, and it comes with the same guarantee as all Mishimoto 7.3L Powerstroke parts.
Technical Specifications:
Direct fit for the 1999-2003 Ford 7.3L Powerstroke
Low-pressure drop
Compatible with OEM
Fluid capacity improvement
37 cooling rows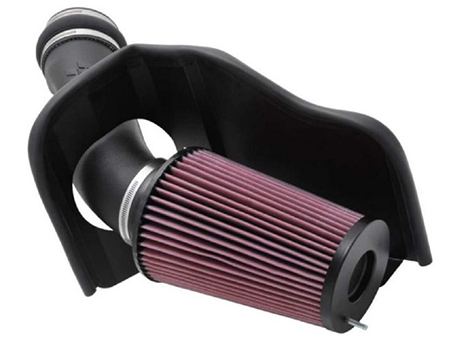 K&N's air intake will significantly improve the performance of your automobile. The K&N cold air intake, designed to provide just enough improvement so that you can dominate the road, will help you notice the difference almost immediately. With this cold air intake, you may bring the sound of a wild animal into your engine. Anyone into tuning can't help but be enthralled by making their car sound more aggressive. If you're into it, this is the model for you. Even better, this type is incredibly simple to maintain. After roughly 100,000 miles, you'll just need to clean it.
Technical Specifications:
Fits 1999-2003 Ford (Excursion, F250 Super Duty, F350 Super Duty, F450 Super Duty, F550 Super Duty)57-2530
Airflow boost
7.3 Powerstroke Power Tricks
One of the many advantages of the Ford 7.3 Powerstroke engine is its simplicity in increasing significantly more power above factory levels. This is accomplished by changing components such as intake and exhaust systems, as well as computer programming.
Intake
A Powerstroke's intake needs to be opened up to increase airflow. A large conical filter with far more surface area is used in place of the stock plastic tubing, air box, and panel filter. There are a variety of after-market kits that include heat shields available. Although numbers can vary, replacing your factory intake system may result in 15 horsepower and 30 pound feet of torque improvement. The after-market intake also improves engine efficiency.
Exhaust
By lowering backpressure, exhaust replacement on your 7.3 Powerstroke improves engine efficiency considerably. There are a variety of exhaust systems available, the most common diameter being four inches mandrel bent systems. A free-flowing system lowers combustion gas temperatures and raises power and torque while producing a better exhaust note.
Power Programming
You can have your Powerstroke's engine preprogrammed to produce considerably more power and torque with the intake and exhaust sides of the Powerstroke opened up. There are several high-quality tuners that offer you with power, towing, and economy tunes that may raise horsepower by 60 to 120 horsepower above stock levels while also lowering exhaust gas temperatures.
Turbo Replacement
The turbocharger on your Powerstroke was built with some overhead in mind to increase power, but it must be replaced if you want more power than simple breathing modifications can give. There are several different types of turbos available, some of which are easy drop-in replacements.
Why did they stop building the 7.3l
The 7.3L Power Stroke was the first Navistar-built turbo-diesel engine for Ford. The electronically controlled, direct injection engine had a bore of 4.11 in and a stroke of 4.18 in and produced 210 horsepower and 425 lb-ft of torque from the factory. It was based on the 6.0L Power Stroke that began production in 2003.5 model year and was the second Navistar-developed turbo-diesel engine for Ford (365 ci).
The 7.3 L DI Power Stroke was produced until the last quarter of model year 2002, when it was replaced by the 6.0 L in 2003 because to its inability to satisfy California noise rules, not emissions standards, as it outperforms the present 6.7 L Power Stroke.
In order to comply with new NOx emissions standards that were scheduled to take effect in 2004, Ford chose the 6.0L engine as the best method to accomplish them. EGR would be included, along with a variable geometry turbocharger and a more efficient fuel injection system than previous versions of the 365-cubic-inch V8.
While the fundamental design and architecture of the 7.3L probably may have been reused, there was no assurance it would've remained with exhaust gas recirculation, or made more than 300 horsepower. Keep in mind that when the 7.3L debuted in mid-1994, it had a 210-horsepower rating.
Keep in mind the following
These trucks are ancient. Because they were built more than 20 years ago, don't expect everything to be in perfect working order (injectors, fuel pump, transmission).
The 7.3L V-8 in Super Dutys from 1999 through 2003 has greater performance potential than the '94.5 -'97 engines used earlier models. (An electronic lift pump, higher flowing injectors, and a higher volume high-pressure oil pump were all added to the later engines.)
An intercooler is not standard on all 7.3Ls. If you want to tow a lot or increase horsepower more than a chip can deliver, an intercooler is highly advised to assist regulate EGT and minimize intake temperatures.
Once the clutch has been replaced in trucks with manual transmissions, a lot of money can be saved or spent elsewhere.
The first budget is for a brand-new, bone-stock truck.
The majority of the goods covered by these budgets are things that you and a buddy could do in a weekend as a novice mechanic. The cost of having these components installed was intentionally left out.
How Do Upgrades Affect Fuel Efficiency
At present, fuel efficiency is a major concern for many consumers. We must be cautious about our fuel efficiency in light of the strain on natural resources. Upgrades for 7.3 Powerstrokes have helped to improve fuel economy over time. They don't require any pre-burning of gasoline when starting the engine, so they use less gas. They also have improved burning efficiency, resulting in a bigger boost with less fuel burnage. The size ratio between the intake and exhaust modifications has improved, which benefits both performance and economy.
Conclusion
Overall, these improvements ensure that 7.3 Powerstroke engines are well worth the money you invest in them. Ford trucks are the ideal solution for many families. Many of them enhance the operation of your old vehicles by several stages, and you will be ecstatic after putting them in your vehicle. So, get your Powerstroke's engine operating at peak efficiency with these upgrades.