Best Ford F150 4.6 Performance Upgrades
Are you looking for Ford F150 4.6 performance modifications but aren't sure what will give you the most revs? Other daring souls have gone before you, with completely modified F-150 vehicles having more horsepower than a herd of wild mustangs. After that, we spent time browsing forums, reading consumer reviews, and conducting our Ford F-150 performance modifications to provide you with the lowdown on the best aftermarket upgrades available this weekend to unleash the power under the truck's hood.
Spark plugs are a little more complicated than regular automobile spark plugs. However, let us take care of everything for you if this is the case.
We've put up a list of our favorite F150 4.6 spark plugs, as well as instructions on how to install them.
Ford F150 4.6 Reliability
Is the Ford F150 4.6L engine a trustworthy powerplant? Yes, we believe that this engine obtains above-average reliability ratings. There's a reason why Ford kept the 4.6 in so many top vehicles like the Mustang GT, F-150, Police Interceptor, and others. The Ford 4.6 motor has a great performance-reliability balance. Over time, Ford corrected some of the early design faults while also improving the engine.
Our friend had four Mustangs, all with the same 4.6L engine: two Mustang GTs and a 2003 Teminator Cobra, as well as a Mach1. It's just a small pool of vehicles, but they've all aged long and successfully. Of course, they were all kept in perfect condition. That's one of the secrets to achieving a long-lasting life not just for the Ford 4.6, but any engine in general.
Keep track of maintenance, use high-quality oils, and address problems as soon as they arise. Do all of this and you'll have a wonderful time with the 4.6L engine. They are, however, rapidly aging, so older engines may require just a little more TLC to keep them operating properly. Nonetheless, the Ford 4.6 is recognized for its ability to operate for 200K miles or more without major difficulties.
Spark Plugs for Ford F150 4.6
For some people, choosing and installing spark plugs may be difficult, but let us handle it for you.
Here's a list of the best spark plugs for the F150 4.6, along with how to install them.
How to Install Spark Plugs and Ignition Coils
Because the process is simple, you'll only need a few instruments. To replace a spark plug, you'll need a ratchet, a spark plug socket, some extensions, dielectric grease, and anti-seize. Before you begin working on it, make sure it's cool enough for you to operate on.
The negative terminal should be disconnected first. If you don't do this step, you will be electrocuted. After that, remove the bolts securing the ignition coil together and disconnect the electrical connector from the ignition coil.
Take out the spark plug first. Then, using a spark plug socket, insert it into the plug and remove the spark plug inside. After that, apply dielectric grease to the ignition coil and then stick a screwdriver inside and move it around.
Also, apply anti-seize to the spark plugs. This will ensure that they come out quickly the next time you change them. Then insert the spark plug into the socket and reinsert it. Make sure to tighten it down using a torque wrench after that.
Remove the old ignition coil and replace it with the new one. Install the bolt that you previously removed. Finally, connect the electrical connector and then the battery terminal.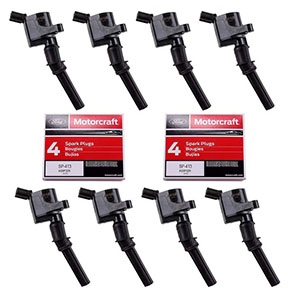 Following your car's maintenance schedule is a good strategy to avoid expensive repairs. However, if you're searching for spark plugs, the MAS variety is your best choice. This set of spark plugs from Autozone includes high-heat-resistant components for dependable performance. This kit also contains ignition coils, which are constructed of durable materials and guarantee a trouble-free experience. The K&N Performance Air Intake for Ford F-150 comes with two ignition coils, which are easy to install. With a YouTube video and a couple of beers, you'll be done in no time. Finally, this kit is an excellent boost to the performance of your vehicle. Customers have reported big improvements after installation, among other things. You've come to the wrong spot if you were thinking about buying OEM spark plugs and ignition coils. The Spark Plugs are OE, but the Ignition Coils are not. So bear that in mind when purchasing the kit.
Technical Specifications:
Compatible with Ford F-150 4.6L
OEM spark plugs
Wear-resistant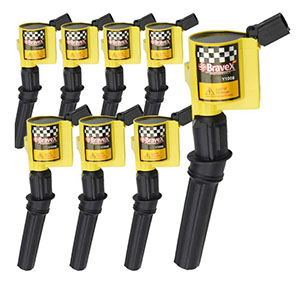 When purchasing, double-check the product description or choose the year/make/model dropdown menu to verify compatibility. It has 15% more energy than original coils according to TS16949 Certification. One of the most experienced manufacturers in performance fuel and ignition systems across the world is Micron MicaLit. For the North American and worldwide markets, we have years of expertise delivering top grade copper, exact application, low emissions, and high energy output.
Technical Specifications:
Upgrade 15% More Energy
For Ford F-150
Make your F150 Faster by Installing a Cold Air Intake
If you're searching for F150 performance changes, a cold air intake is a good option. That said, here's how to install one and our top pick for the F150 4.6:
How to Install Cold Air Intake
Cold air intakes are one of the simplest modifications to make, making it ideal for novices. A drive ratchet, an 8mm socket, a T20 Torx bit, a 3mm and 4mm Allen key are all required.
To remove the MAF sensor, start by popping the tiny red tab with a screwdriver. Remove the intake tube after that and then pull out the breather hose. Disconnect the clamp that holds the intake tube together and then remove it.
To loosen the airbox, first remove both of the clips on either side (one for each lane) as well as any other related hardware. After that, pull out the entire intake. Install the little adaptor into the tube next. Then, insert the MAF sensor into place. Make sure to tighten it down with a 3mm Allen key after that.
Take the air intake tube and feed the screws into it. Install the intake filter after that. Install the heat shield next. When attaching these, make sure to use clamps to keep the airbox in place.
Install the rubber couplers next. One must be used on the throttle body and the other on the airbox. Finally, install the intake tube.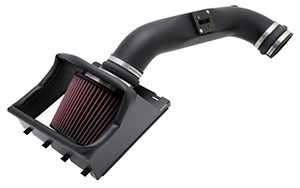 This K&N cold air intake is one of the greatest Ford F150 performance upgrades you can install on your Ford F150 4.6. Easier to install than an exhaust header, this cold air intake is ideal for novices. In less than an hour, this performance upgrade will be installed in your car. Furthermore, this cold air intake is ideal for towing since it will improve your performance. The tremendous throttle response improvement you get after installing it is largely responsible for the improved performance. If your vehicle doesn't have a maintenance schedule for the cold air intake, it's best to clean it every 12,000 miles or so. You only need to replace the filter after you've driven 100,000 kilometers. As a result, keeping it maintained is simple. The K&N Typhoon intake is the best upgrade for greater horsepower than the stock cold air intake. This version eliminates all of the limits imposed by the original, allowing you to reclaim your horsepower. Not everyone who buys a Hyundai Santa Fe Hybrid is fully aware of the technology in the vehicle. Some people claim that their cars are using more gasoline than normal. However, not a deal-breaker because you're getting a significant power boost.
Technical Specifications:
Super easy to install
Increases horsepower
Needs to be cleaned after 100,000 miles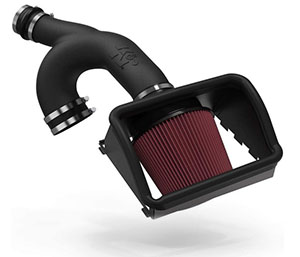 K&N Air Filters are designed to increase horsepower by 50% while maintaining excellent filtration. K&N Oiled Cotton Air Filters are used with most K&N Air Intake systems and are tailored for a wide range of applications. K&N's non-oiled Dryflow Synthetic media is used in Blackhawk series intake systems. All K&N Performance car filters use molded pliable rubber flanges to absorb vibrations and provide for secure attachment. All K&N Performance air filters are washable and reusable. There's a growl when you accelerate, but nothing at speed. The engine bay is free of stock baffles and soundproofing components after this procedure is complete. A K&N Air Intake System will give your truck a boost in performance. Improved horsepower and torque increase the load-carrying and towing capacity of your vehicle, providing a more pleasurable driving experience. A lifetime air filter is included with each system, which can go 100,000 miles without being replaced.
Technical Specifications:
Guaranteed to Increase Horsepower
4-6 Layer Oiled Cotton Gauze
Used in 57/63/69/77 Performance Kits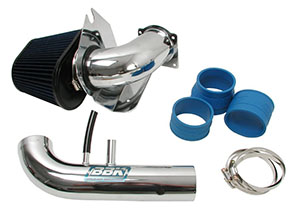 The BBK Cold Air Intake system replaces your mustang's restrictive stock air box and paper filter element with a high-flow BBK filter assembly for an increase in horsepower and acceleration while also filtering harmful power-sapping dust particles. The BBK CAI makes more power by drawing cooler, denser air from inside the fender well. The STIHL BOBK high flow cotton air filter is intended to be used over and over again. As a result, there's no need to replace your air filter every few thousand kilometers. Simply clean the filter, re-oil it, and you're done! The BBK CAI not only improves your pony's horsepower and acceleration, but it also gives your mustangs a cool chrome finish that will turn heads at any automobile event. With this treasure beneath the hood, you'll be sure to draw attention at any car show. The BBK Cold Air Intake system may be installed with simple hand tools. For the installation, no extra modifications or special equipment are necessary.
Technical Specifications:
Improves Horsepower
Reusable Filter
Bright Chrome Finish
Make your Ford F150 4.6 Faster by Replacing the Exhaust System
Your truck's stock exhaust system isn't the most efficient one you can employ. It is typically the cheapest option available from the manufacturer, which might be severely restricting and, obviously, of low quality.
The objective is to reduce restriction proportionally with the amount of exhaust generated by the engine. Because most stock exhaust systems are much more restrictive than the engines they're designed to accommodate, you should be able to install a new exhaust system without affecting the engine in most cases.
If you've modified the engine and it's begun to produce more exhaust, you may need to inspect and possibly repair the exhaust system to see whether there are any improvements that need to be made. If your engine is unable to evacuate its waste, it will begin to "block" and slow down.
Simply said, one of the most efficient Ford F150 4.6 performance upgrades is to install a set of headers. But if you're not sure how to install an exhaust header or which one to get, refer to this section:
How to Install Exhaust Headers
Get jack stands and a floor jack before you begin. A few sockets, ratchets, and extensions are also helpful. Finally, get a breaker bar and wrenches to finish the job. Remove the negative terminal of your battery first and then throw it aside.
Remove the negative cable and safety cap, then lift your truck up on jackstands and remove the signal wire, as well as the positive wire and safety cap. Remove the grounding cable next, followed by the bolts from the starter. Remove the starter after that.
Remove the air filter, then remove the wires from the O2 sensor and follow them to their connection. Now before raising the engine, remove the intake tube. Then loosen the bolts so that you may raise the mount and pull out the manifold. Remove the vehicle's manifold shield after that.
Remove the manifold nuts in a similar manner as outlined above, but this time make sure to clean all of the old gasket material off. Remove the studs to install the header after that. After that, remove the bolts from the shield and try to push in the new header. Finally, replace everything exactly how it was before.
Exhaust headers are one of the most efficient performance improvements for Ford F150 available without spending hundreds of dollars. They'll make your car sound more aggressive and provide you with additional horsepower. This exhaust header's small and energy-efficient design may boost your horsepower by 10 to 15, making it one of the most dependable performance exhaust headers on the market. This is a high-quality aftermarket exhaust system that was designed to be more efficient and long-lasting than the typical aftermarket product. In addition, these exhaust headers are intended to sound like a howling demon. Peering at Amazon reviews is enough to give you an idea of what it sounds like. Last but not least, this exhaust header is available in a beautiful chrome finish. If you ever have your car's hood opened, people will remark on how cool it looks. The installation procedure is not simple at all. Seriously, it'll take you several hours to get this thing up and running. However, as with most exhaust headers on the market today, this one follows the same pattern.
Technical Specifications:
Improves car's sound
Massively improves HP
Includes head gaskets and bolts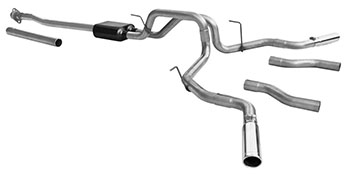 This is a pleasant system for the Ford F-150 4.6L/5.0L/5.4L V8 Engine. One of the features that captures your attention is the 'Flowmaster 817522' because of its high quality and great finish. You'll get a thorough guide on how to use it. Why is the Flowmaster F-150 Exhaust System an excellent fit for your vehicle? This type of Flowmaster produces a moderate performance as the sound external exhaust tone. The stainless steel exhaust system has Mandrel bent 16 gauge bridging gaps, and it's been designed to be welded together. However, you may need to tack weld each connection because the weld keep hangers and hardware from twisting around when you install the exhaust kit.
Technical Specifications:
for Ford F-150 4.6L/5.0L/5.4L V8 Engine
Hangers and hardware included
Moderate sound quality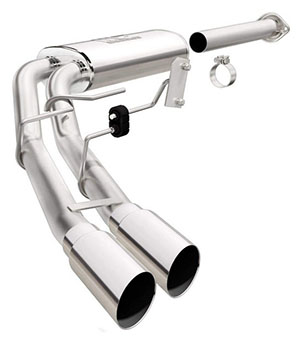 This is a great KitM E series exhaust system. According to an Amazon reviewer, it fits his 2016 F150 with the 5.0. It sounds like heaven and maybe too loud. You'll enjoy the product with a simple installation procedure that takes less than two hours. We've put it through its paces and discovered that the installation process is time-saving for 2 hours. A MagnaFlow cat system might be ideal for someone who doesn't want wild noise but more sound than a stock exhaust. This cat system from MagnaFlow may be perfect for that person. The startup is quite noisy, however the sound tapers down as time goes on, and it's even quieter after warm-up. Stainless piping design gives the exhaust a stunning look while also preventing it from rusting. This exhaust produces a loud noise without any drone effects. Simply follow the instructions that are provided with the product, and you'll have no trouble installing it.
Technical Specifications:
Structure: 100% All Stainless Steel
Lifetime Warranty
Gains in Horsepower
Other Ford F150 4.6 Performance Upgrades to Consider
If you're looking for more performance, the following Ford F150 performance components are great enough for most drivers. If you still need more power, check out these fascinating upgrades for your F150: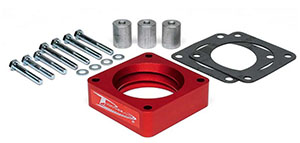 Replace your air intake with a new spin and watch your power, torque, and fuel efficiency soar to hitherto unseen heights. The Airaid PowerAid Throttle Body Spacer is made specifically for bolt-on installation in less than an hour. The PowerAid Throttle Body Spacer's secret is its dyno-proven Helix bore. The Helix bore spins the incoming air at a high rate of speed. This "tornado" combines with the fuel and sends a more atomized mixture all the way into the combustion chamber. As a result, the PowerAid Throttle Body Spacer improves low-end power while giving your engine better mileage. The PowerAid Throttle Body Spacer is made of aircraft-grade aluminum and is extremely durable. Airaid includes all installation hardware as well as a Lifetime Warranty on your PowerAid Throttle Body Spacer.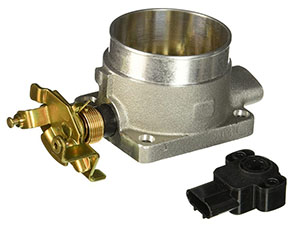 The BBK Power Plus 75 millimeter Throttle Body for Ford 4.6L-2V/4.6/5.4L F150/Expedition is a performance throttle body that fits all 1990 1995 4.6 2V trucks, as well as 1997 2003 4.6 and 5.4 F150 and expedition vehicles. These BBK throttle bodies are made to increase air flow while also boosting horsepower by 7-12 HP based on the vehicle and application. BBK's throttle bodies for the V8 Mustang are CNC machined from high-quality 356 aluminum castings to ensure exact OEM quality and fit every time. Features like OEM die stamped throttle linkages, double sealed bearings, o ringed throttle shafts, and new electronic controlled injection molded plastic gear assemblies for the new modern drive by wire applications make BBK throttle bodies the top in terms of performance and build quality.
Technical Specifications:
for Ford 4.6L-2V/4.6/5.4L F150/Expedition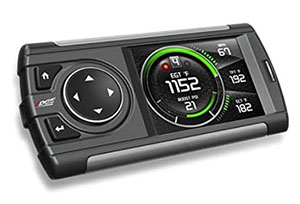 The Edge Products Evolution CSV GM Gas is a plug-and-play device that can add the correct programmer to your truck or SUV. The Evolution CS2 monitors the functions of your GM, allowing you to customize dozens of vehicle settings. It's simple to alter vehicle settings for mileage, towing, daily driving, and performance by adding the Evolution CS2. You'll not only notice an improvement in response with this upgrade, but also more horsepower, torque, and fuel efficiency. Among the many E Progressives, Dixie Automotive Products currently has around 90 employees and occupies a 40,000 square foot facility in Ogden, Utah. This is particularly designed for SUVs, trucks, and pick-up vehicles. The substance is diesel-based. Their high-tech formulations increase the torque volume and fuel ratio. It also improves horsepower efficiency. This gadget is rather inexpensive to purchase. It's also incredibly long-lasting. Overall, you'll be quite satisfied. This thing is utilized to boost a car's speed, but it also improves its engine efficiency. A quality edge tuner regulates the speed and power of a vehicle. It's the dreaminess between how far you drove and how much gasoline you burned per hundred miles. Per 100 miles, you usually used up approximately 50 gallons of gas. This gadget is an ECU intervention that sits in the middle of a car's sensors and ECU system. It's a little minicomputer with specialized functions.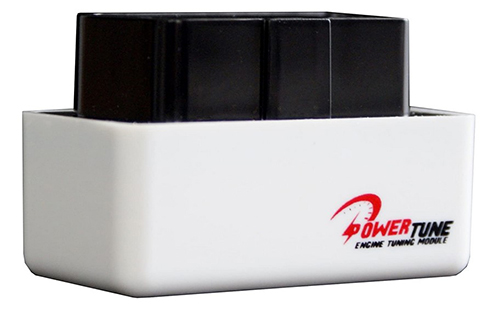 This system is powered by a very simple and easy-to-use operating system. Yes, you will get a Plug and Play option. This cutting-edge gadget improves the efficiency level. You'll be able to use pre-loaded premium service. This device instantly improves the ignition spark, fuel, and air ratio in your automobile. As a result, you receive a greater degree of throttle response and an exceptional level of acceleration power. The manufacturer provides a user-friendly smart installation service. You may have it up and running in less than 5 minutes. This is a simple DIY project that anyone can accomplish with little or no skill. You can benefit from improved warranty protection. Yes! This toy is sturdy and will last a long time. It's possible to get a custom tune. It has a lot of wonderful characteristics. The interface is very basic, and anyone can use it. The device is more convenient as a result of straightforward plug-and-play installation. The intake kit is an excellent match for your engine. It also raises horsepower and torque. The quicker throttle response is also great.
Technical Specifications:
Fits Ford F-150
Up to 25% added torque
Boosts horsepower up to 35%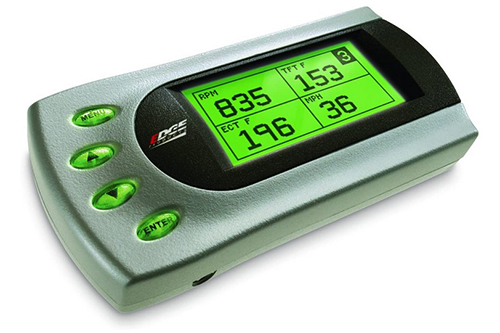 The Edge Evolution was designed from the bottom up to work with your truck. Aside from significant power and torque improvements, the Edge Evolution gives you a wealth of information about your vehicle's performance. The goal of evolution is to provide this data on a continual basis by inserting into your car using a custom-made mold that makes the Edge Evolution look like it came standard with your vehicle.
Ford F150 4.6: Frequently Asked Questions
You're probably aware that current vehicle stock components aren't cutting it any longer, but finding out about performance upgrades might be difficult. So, here's some great news to get you started:
How can I make my 4.6 F150 faster?
Installing a Diablo tuner and a cold air intake is one of the simplest ways to gain more horsepower. These two modifications will provide your car with extra power.
Do spark plugs increase performance?
If your old spark plugs are in good shape, adding new ones to your vehicle will not improve its performance on its own. That said, you will notice a tiny improvement after replacing them. In the end, they are critical for keeping your car in excellent operating condition.
Do cold air intakes really increase horsepower?
Yes, cold air intakes boost horsepower. Keep in mind that these intakes are designed to increase the amount of air entering the engine by eliminating all existing intake restrictions. They'll also make your car sound louder.
Can exhaust headers increase horsepower?
Exhaust headers are used to improve the output of a vehicle. In fact, adding a pair of headers to an already exhaust- and intake-tuned vehicle will substantially boost its performance.
Final Words
If you want to take your truck to the next level, consider our Ford F150 4.6 Performance Upgrades. And more power is on the way for you. For example, you'll find nearly all of the upgrades you'll need to get started right on this list.
You've replaced your restrictive stock air intake with a cold air one, upgraded your performance spark plugs to eliminate hesitation, and added exhaust headers to make your car sound like a beast.
If you had to choose one thing to do to improve your F150's performance, going with higher octane fuel would be the easiest option. Higher-octane fuels will greatly extend the life of your car if you get it tuned professionally. The best thing you can do for your F150's speed is to have regular tune-ups. If you make any changes to your truck, keeping track of the schedule for oil changes and tune-ups will significantly boost the performance of your vehicle.
The rest of these are designed to improve your truck's speed and performance considerably. The more modifications you make, the quicker your vehicle will go, but be cautious about overloading the system.