Top 5 Best Silverado Radiator Upgrade
If you are a performance enthusiast and like to boost up your engine in a higher horsepower or looking for better engine protection then you surely need a radiator upgrade for your Silverado. An upgraded radiator will keep your engine cooler than your stock radiator. Even if your engine gets overheated the radiator will ensure proper cooling is performed.
In this article, we reviewed the best Silverado radiator upgrade you can install. You will also learn about the benefits of it and how to install a radiator yourself. So, stick to the end of this article and secure yourself with the best radiator.
Click here to skip to our recommended pick!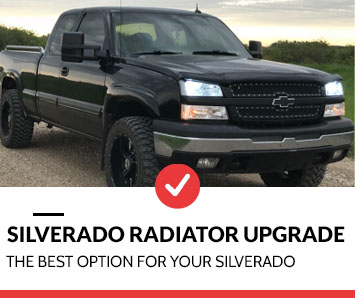 Overall #1 Rated Pick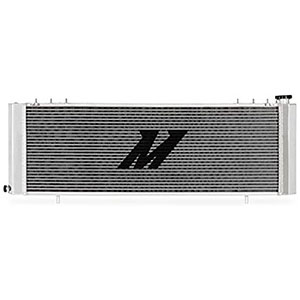 Mishimoto Performance Aluminum Radiator MMRAD-GMT-99 For 1999-2014 Silverado 1500 V8
Key Features:
Compatible with Silverado 1999 – 2014 models
Approximate 46°F decrease in outlet coolant temperature
72% more coolant capacity
Provides a greater cooling surface and thicker than your stock one
The Mishimoto performance radiator easily reaches our top selection for its performance at such a low price. Made out of highly conductive Aluminum, it will provide 72% better cooling than your stock radiator.
This Silverado radiator upgrade will not only keep your engine cool, but it will also decrease the temperature of your transmission fluid. Thus, ensuring better protection for both your engine and transmission system.
This direct-fit radiator is specially designed just for your Chevy Silverado. Whether you are a normal driver or frequently peak your engine performance, you will get the maximum cooling efficiency. The 69% greater surface area and 92% thicker radiator will ensure more airflow and will increase cooling capacity at every driving condition.
This product is road tested at 46°F decrease in outlet coolant temperature and a 25°F drop in transmission fluid. I believe that you won't find any other product that is more suitable than this Mishimoto performance radiator.
Silverado Radiator Upgrade Benefits
While browsing through radiators for your Silverado it will always come on to your mind, how is an upgraded radiator beneficial for your engine rather than your stock one. An upgraded radiator improves your engine mainly on three points.
Better Engine Thermal Protection
As an engine works on fuel-burning inside the combustion chamber, the engine is prone to operate in high temperatures. The cylinder surface temperature may be as high as 500°F. It is the responsibility of the radiator to induce cool air and flow the cooled coolant over these high-temperature parts and bring down the temperature to a harmless temperature range of 195-220°F.
Over the years the stock radiator may become less efficient due to wear, dirt accumulation on the radiator panels. So, if you want to keep your engine protected you should upgrade your radiator. You will get better thermal protection than your stock radiator and you will see a notable decrease in engine temperature.
Improves Engine Performance
If you run your engine at higher horsepower or run for an extended period there is a fear of overheating your engine. But with an upgraded radiator, as it will provide better cooling capacity there is little to no risk of overheating. So, the upgraded radiator will significantly improve your engine performance and you can also install aftermarket modifications without decreasing the cooling efficiency of your engine.
Increased Engine Life
Silverado radiator upgrade will also increase your engine life significantly. Your engine will operate at lower temperatures thus decreasing the thermal fatigue and wear. The upgraded radiator will be less susceptible to overheating the engine. The better radiator will also prevent engine knock and will stop unwanted thermal expansion to the engine parts. All these things will ensure a prolonged engine life.
Silverado Radiator Upgrade
Now that you have known the benefits of an upgraded radiator for your Silverado, it is time for selecting a product that is suitable to your liking. So, look at our top selected radiators for Silverado and make the choice yourself!
The top best product [hide]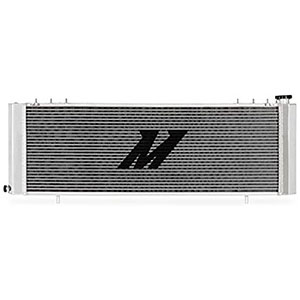 This Mishimoto Silverado radiator is already labeled as the overall top-rated pick in our article. This product is tested with an increase of 72% cooling capacity for a Chevy Silverado. You will also get a 46°F decrease in coolant outlet temperature and 25°F less transmission fluid temperature.
Mishimoto radiator ensures more airflow through the radiator panels by increasing the surface area about 69% over the stock one. It is also 92% thicker. Although this has an increased volume over the stock, the weight of the radiator is only 21 pounds.
Highly conductive radiator fins make the coolant colder and you will see a notable increase in the engine performance. This product is also a direct fit for your Silverado 1999-2014 models. You can appropriately use this product for popular models such as the 2005 Silverado radiator and 2003 Silverado radiator.
Mishimoto Performance Aluminum Radiator For Silverado 1999
Technical Specifications:
Fitment:
1999-2014 Silverado 1500
Pros
72% cooling capacity boost than the stock

Bonus transmission and oil cooler ports are included

Lifetime warranty provided by Mishimoto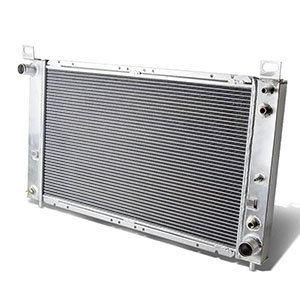 This Auto Dynasty aluminum racing radiator is our premium choice for your Chevy Silverado. The 2-Row design is made for a major increase in cooling efficiency thus improving the engine performance greatly. This is said to be at least 40% more efficient than your stock radiator.
This upgraded radiator will also prevent the engine from any unwanted engine failure due to overheating. It's lightweight and high heat conductive T-6061 aluminum construction has more surface area than your stock radiator that will dissipate the heat more effectively.
Being a high-performance radiator, this is very much suitable as a 2000 Chevy Silverado 1500 5.3 radiator. You can also use it on 99-12 Silverado models and other GMC models. Keep in mind that this product is only acceptable for 4.8 and 5.3 engines only.
Technical Specifications:
Fitment:
1999-2012 Chevrolet Silverado 1500/1999-2000 Silverado 2500
Pros
2-Row design is suitable for high-performance racing

35%-45% reduction in coolant temperature

Lightweight and high-quality aluminum built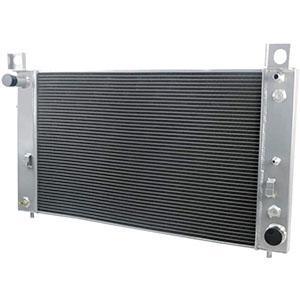 If you want a more advanced 3-Row radiator design then this may be your preferred selection. The high-quality T-6061 aluminum and tig welded joints will increase your engine's life and performance.
Primecooling also provides a transmission fluid cooler built it with the radiator. So, you won't need an aftermarket trans cooler. The superior cooling capacity will prevent any unwanted temperature surges and you will get a smooth experience.
This product has a much greater coolant capacity than your average radiator and is tested to decrease the coolant temp by 35% - 45%. Like our last review, this product is also just suitable for 4.8- and 5.3-liters engines. You can use it on any 99-12 Silverado, GMC, and Suburban models within the specified engine specs.
Technical Specifications:
Fitment:
1999-2012 Silverado
Pros
Included transmission fluid cooler

Can be directly bolted on OEM fitment

Higher capacity and better protection than the stock one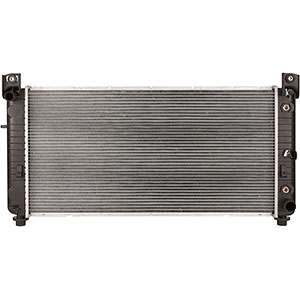 This Spectra Premium radiator is our budget choice for Silverado users. At such a low price this is also the most lightweight product in our article. Although the tank is made out of plastic the product assures improved cooling efficiency over the stock radiator.
The product is specially made for vehicles that have a transmission fluid cooler and don't have any engine oil cooler. The radiator flows the coolant through both the engine and the transmission and all other components. We can assure you that you won't have any heat surge while using this product.
The radiator is properly tested in extreme temperature conditions and is a perfect fit for Chevy Silverado and Suburban models. So, if you don't want to spend much money and get a suitable cooling efficiency upgrade then we suggest buying this product.
Technical Specifications:
Fitment:
2005-2016 Chevrolet Silverado 1500 Base V6 4.3L/1999-2008 Chevrolet Silverado 1500 Base V8 5.3L
Manufacturer:
Spectra Premium
Pros
Lightweight product with maximum cooling efficiency

Perfect fit for Silverado, no extra modification is needed

Extended cooling on both engine and transmission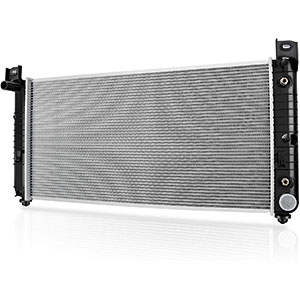 If you want a reliable, long-lasting, and high-performance radiator then we recommend buying this one. This product ensures increased cooling effectiveness and is durable in both extreme hot and cold temperatures.
It is also made out of rigid, conductive aluminum that has better heat dissipation. The inlet and outlet ports are properly tig welded that will prevent any kind of leakage.
This DWVO core radiator is the only product in our article that is perfectly suitable for all Chevy Silverado engine volumes. This will work as an OEM replacement for 4.3, 4.8, 5.3, 6.0, 6.2 engine models. You can even use it as a 2011 chevy 2500hd 6.0 radiator.
Technical Specifications:
Fitment:
2011 Chevy Silverado
Pros
Coolant leakage tested

High-density aluminum fins ensure maximum cooling efficiency

Corrosion-resistant coating included

How to Install Silverado Radiator Upgrade
Now that you have selected the radiator from the aforementioned reviews, follow these steps to install it on your Chevy Silverado.
Drain the old coolant
Disconnect the upper and lower radiator hose
Remove the reservoir hose and disconnect the cooling fan
Using a wrench remove all the mountings of the old radiator carefully
Remove the old radiator and install the new one
Now work your way reversely and fill up the radiator with new coolant
We have also added a link to a detailed video on replacing the radiator on a Chevy Silverado. Check it out and improve your cooling performance!