Top 6 Best Jeep JK Radiator Upgrade
Are you looking for the best Jeep JK radiator upgrade? Whether or not the Jeep's radiator has problems, upgrading it could potentially improve performance.
This post will cover everything you need to know before the upgrade, from the list of best radiators to the installation process.
So do read the article through to the end to take in all the valuable information.
Click here to skip to our recommended pick!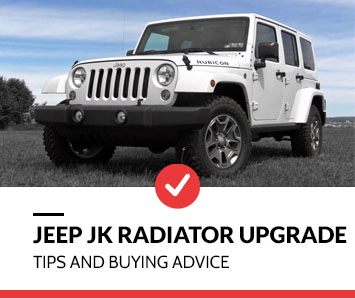 Our Overall #1 Rated Pick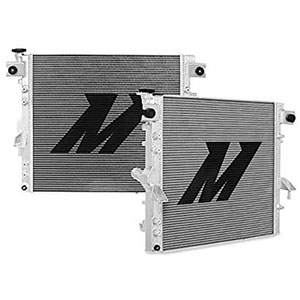 Mishimoto MMRAD-WRA-07V2 Aluminum Radiator for Jeep Wrangler JK 2007-2017
The all-rounder radiator for the Jeep JK is the Mishimoto MMRAD-WRA-07V2 Aluminum Radiator. Here are it's top three qualities:
18% increase in core
13% more coolant capacity
All-aluminum construction
This product was chosen based on the improvements it can bring into the Jeep's cooling system.
The Mishimoto radiator is made of aluminum, which, by default, is very good at dissipating heat. So it will bring down the temperature of the vehicle, especially if you live in a hot climate or do a lot of off-road driving with the Jeep.
It has more coolant capacity, which translates into more cooling capacity. This will likely resolve any overheating issue in your car and prevent it in the future.
It has a polished exterior, which is corrosion-resistant, so it lasts long. This is a performance radiator, designed with off-road drivers in mind.
The core itself is larger on this radiator, with more rows and a larger external tube area. It will complement the Jeep Wrangler's other rugged parts, including the engine.
Jeep JK Radiator Upgrade Benefits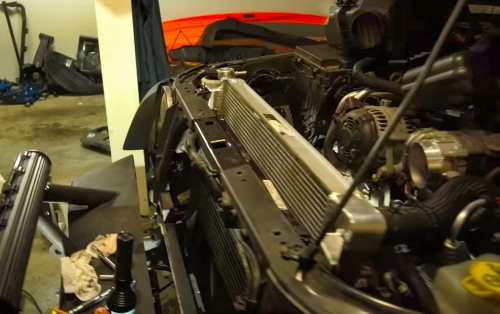 The Jeep Wrangler JK is an off-road vehicle that first came out in 2007, and the production continued till 2018. Even though it's an off-road vehicle, a radiator upgrade can make it even more rugged.
Even if your car's radiator isn't leaking or causing overheating, going for an aftermarket radiator that's top-quality can give it a performance boost.
Here are some of the benefits of a Jeep JK radiator upgrade.
Better Construction
Aftermarket radiators generally have better construction than stock radiators. For instance, these radiators are mostly made of aluminum, which is a lightweight metal as compared with other legacy materials of radiators like brass.
Similarly, depending on the radiator you choose, it can have more rows. Typically, two or three-row core radiators offer better cooling capacity. That alone is a major improvement over the stock radiator, especially considering it's for an off-road engine.
Also, a Jeep JK fan upgrade can also benefit the cooling system, especially if you're existing fan isn't quite helping cool the radiator.
Lightweight
As mentioned earlier, a lightweight radiator can be good for the car's performance. All that weight lifted off the boot after an upgrade will translate into more horsepower.
Lightweight doesn't mean compromising on quality. The radiator has to be well-built, but if it's lighter than the factory one, it will help improve performance slightly, if not too much.
No Leakage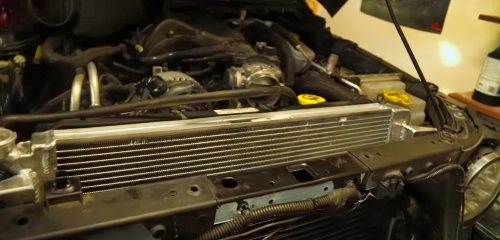 Off-road vehicles can develop overheating and leakage problems in the radiators, if the radiator is not up to mark. A Jeep JK cooling system upgrade could ensure there's no leakage regardless of how you're using the vehicle.
This mainly depends on the construction of the radiator, as to how well it's welded. High-quality performance radiators typically have leading-edge welding that helps prevent leakages.
Best Jeep JK Performance Radiator Upgrade
The top best product [hide]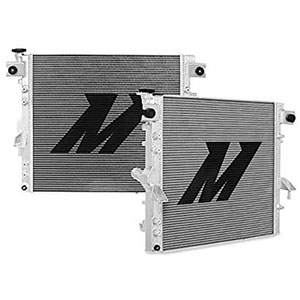 The Mishimoto MMRAD-WRA-07V2 Aluminum Radiator is the best radiator for JK Wrangler. It meets all the requirements of a powerful performance radiator.
With an 18% increased core size, this model delivers 13% more coolant capacity. It will help keep the temperature of the car just optimal, even when you're off-roading.
The aluminum construction of the radiator is extremely reliable. They have used internally strutted tubes that deal with the combat flex. As a result, it's also highly durable and would give you years of service easily.
Compatibility:
Jeep Wrangler JK 2007 to 2017
Mishimoto For Jeep Wrangler JK
Technical Specifications:
Fitment:
2007-2017 Jeep Wrangler JK
Pros
Quick cooling aluminum

Polished exterior

Higher cooling capacity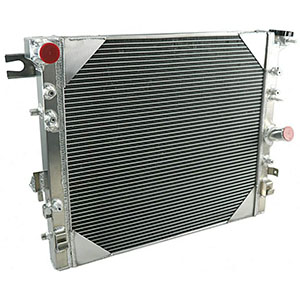 OzCoolingParts specializes in radiators, and this aluminum radiator is specifically constructed for Jeep Wrangler JK. It will work with Jeep JK 3.6 and 3.8 V6 engines.
Made of T-6061 aluminum, this 3-row radiator is capable of keeping the temperature of the car at the sweet spot. If we're talking numbers, then it can increase cooling capacity by a whopping 45%.
It also has a built-in transmission cooler for those automatic transmission Jeeps. Its compatibility goes all the way back to the 2007 Jeep Wrangler radiator.
This CE-approved radiator features superior welding, which ensures there's no leakage. Even if you use the Jeep as an off-road vehicle, this performance radiator will support it.
Compatibility: Jeep Wrangler JK 2007 to 2017 (Only gasoline)
Technical Specifications:
Fitment:
2007-2017 Jeep Wrangler JK
Pros
Great value for money

More cooling power

Transmission cooler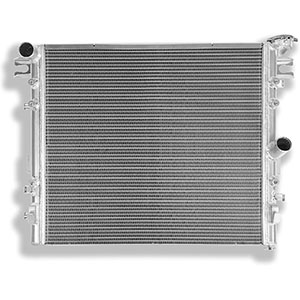 The Flex-a-lite 315600 Extruded Core Radiator is the premium choice because of its Extruded Tube Core technology. It's more advanced than the conventional multi-core radiators.
These extruded tubes are much more efficient at cooling and bringing the temperature to an optimal level. This happens because the extruded tubes are closer in contact with the coolant. If that's not enough, the louver pattern fins will readily draw in more air and keep the temps down. Therefore, it deals with overheating in several ways, always ensuring the ideal temperature under the hood.
This Jeep JK performance radiator has a 100-psi burst rating. It also has a corner subhead for the tube connection that basically makes it leakproof.
Compatibility: Jeep Wrangler JK 2007 to 2018
Technical Specifications:
Fitment:
2007-2018 Jeep Wrangler JK
Manufacturer:
Flex-a-lite
Pros
High-quality built

Extruded Tube technology

Great for off-roading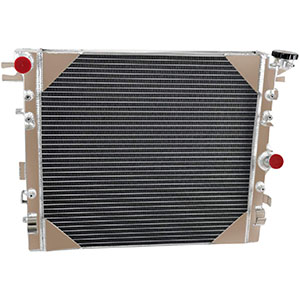 The ALLOYWORKS Aluminum Radiator for V6 Jeep JK engines is the budget choice. It has the potential to improve vehicle performance by preventing overheating. Also, it's quite lightweight, which may even help increase horsepower and speed. This would be a considerable improvement over the stock engine. It has aluminum construction, which is much better than other common metals and alloys found in legacy radiators.
Although it's a single row core design, it's good enough for racing and off-roading. The core dimensions are 20.39'' x 21.06'', while the inlet size is 1.5".
The weight of this radiator is just 13.64 pounds. Most aftermarket radiators for JEEP JK weigh over 15 pounds.
Compatibility: Jeep Wrangler JK 2007 to 2015
Technical Specifications:
Fitment:
2007-2015 Jeep Wrangler JK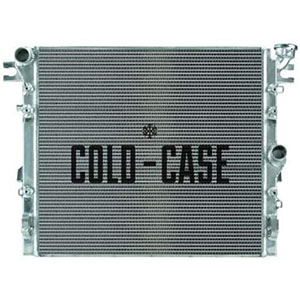 The Cold Case MOJ995 Radiator is another great option for Jeep JK radiator upgrade. It can replace the 2013 Jeep Wrangler radiator in the JK variant with the V6 engine.
This is a 100% aluminum radiator, welded (TIG) with care and attention. It features two oversized rows in its construction, which are nearly equivalent to a 3-row radiator in terms of cooling capacity.
Cold Case apparently specializes in GM vehicle parts. It also has OEM stamping. However, this radiator isn't made in the US; it's imported from China.
Compatibility: Jeep Wrangler JK 2007 to 2017
Technical Specifications:
Fitment:
2007-2018 Jeep Wrangler JK
Pros
2-row construction

High-quality aluminum

Installation instructions included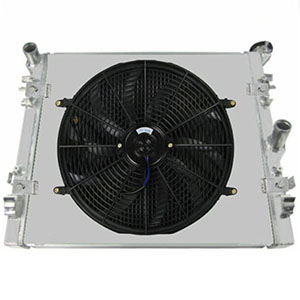 This pairing of the radiator and cooling fan from OzCoolingParts will take the cooling process to the next level. With all-aluminum construction, the radiator is much better at cooling. Then you add the 16-inch fan, and you have a reliable performance radiator at your disposal.
This will be a great choice for upgrading older Jeep radiators like the 2008 Jeep Wrangler radiator or 2009 Jeep Wrangler radiator. It can be used in more recent models as well, especially if you want to give them a performance boost and prepare for off-road adventures.
Its welding is on-point, which ensures there are no leaks. The company claims it can improve cooling by 35 to 45%, which isn't surprising given that it's an aluminum radiator with a 3-row core. The airflow in the fan is 1730 CFM, which is more than enough for a four-cylinder engine. It has 10 curved blades and a total diameter of a little over 16 inches.
Compatibility: Jeep Wrangler JK 2007 to 2015
Technical Specifications:
Fitment:
2007-2015 Jeep Wrangler JK
Pros
Cooling fan and shroud kit

More cooling power

Great value for money

Why you should upgrade your radiator to a performance version
One of the most important upgrades for your Jeep JK Wrangler is a performance radiator. The stock radiators are notoriously weak and are not meant to be used in any type of extreme conditions. It doesn't take much for them to overheat, which can cause serious engine damage if you're driving on rough terrain or at high speeds.
Plus, a lot of people nowadays go off-roading or put their jeeps through some difficult situations where they have no choice but to get it dirty and covered with mud – this will eventually build up inside your cooling system as well. A performance radiator installation prevents that from happening because the water pump has been upgraded to handle more pressure than before (usually by extending its neck).
This mean that the performance radiator will increace the surface area of the water pump, which will then push out more heat at a much faster rate.
How to Install Jeep JK Radiator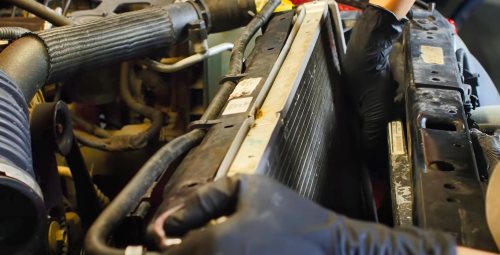 Removing the radiator and installing a new one isn't a job that necessarily requires you to take the vehicle to a garage.
If you typically do the car maintenance by yourself and have some handy tools in your toolbox, you can do it yourself at home.
The radiator you buy would likely come with the instructions, but it's best to watch a tutorial, too. Here's a detailed tutorial video on how to change the radiator on a Jeep Wrangler.
This particular video shows the process for the 2007 Jeep Wrangler JK, but the process is pretty much the same for all the models up until 2018.